Originally published on the Repsly blog.
Forty percent of customers change their minds because of something they see, learn, or do when interacting with a product in-store. Follow these retail merchandising rules to tip the scale in your favor.
1. Think About The Customer Journey
In the age of Amazon and being able to buy anything with just a few clicks, customers don't have to step foot in retail locations if they don't want to. So why do they still go to stores? Because they want to interact with the product, and that interaction has to bring value to their experience in order for them to purchase.
ACTIVITY: Ask yourself– What about physically interacting with my product adds to the in-store buying experience? If it's a certain packaging component, be sure it is visible on the style of shelf your product will be stocked on.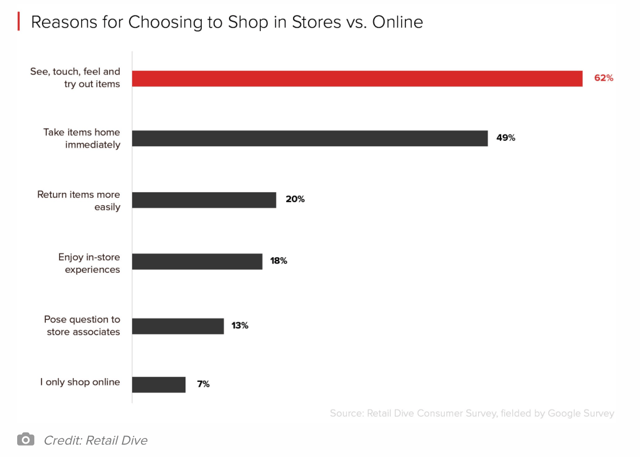 2. Support Your Product's Narrative
With the increase in online and mobile ordering has come a shift toward stronger emphasis on product branding and storytelling. Even if you only sell in retail locations, you can't ignore how the increase of omni-channel marketing has influenced consumer expectations. In brick-and-mortar retail locations, shoppers still expect the higher level of education and delight that online stores provide. Try to think of this as an opportunity to add an extra dimension to the customer's experience at point-of-purchase.
Whether it's a small detail on your packaging, a branded endcap display, or the way your product looks side-by-side on a shelf, make sure it contributes to the larger narrative you're creating through your online presence and social media.
EXAMPLE: Look at Health-Ade Kombucha's packaging. The anchor from their logo is molded into their cap as well as the glass at the top and base of the bottle.

3. Understand Why Customers DON'T Buy
Yes, it is imperative to know what about your product delights customers and pushes them to purchase. But, understanding why they don't buy can sometimes be even more valuable. Is it because the customer connects more with a competitor next to you on the shelf, doesn't get the answers he or she needs from your packaging, or abandons the purchase cycle all together? If you can answer these questions, you'll be better at patching holes in your purchase funnel.
ACTIVITY: Before you make any changes to your retail merchandising strategy, look at your product, packaging and display tactics. Do they engage? Entertain? Educate?
Make sure your packaging is doing work for your brand on the shelf with this free PDF guide
4. Advocate For Premium Shelf Space
Sometimes it's not enough to simply get yourself into a retail location. Maybe you're doing okay, but know your product would excel if it was better placed. And you're probably right — moving bottled juices vertically from worst to best location on the shelf prompted a 79 percent increase in sales, according to a study from The University of Chicago.
Requesting that a retailer positions you in a more prime spot can be a big ask, but if you have a good product and numbers to back it up, it can pay off.
TACTIC: Look at your market share compared to your shelf space share. If your share of shelf space is lower than your share of the market, bring this up with the retailer to make a case for more space or premium placement.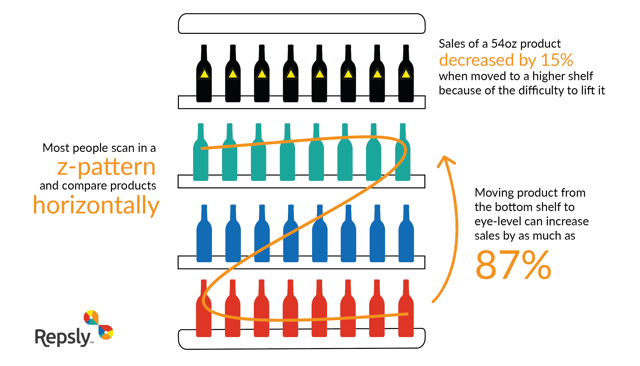 5. Research Retail Merchandising Trends
From 2010 to 2015, foot traffic in retail stores declined by 57 percent, but the value of each visit nearly tripled. It's easy to get stuck in your own echo chamber, especially if you're busy running a business. How do you expect to satisfy customers if you don't know what else you're competing against?
ACTIVITY: Check out what industry leaders are doing in retail merchandising. Start with this Pinterest board of some interesting POP displays. If you still want more inspiration, scroll through the 2017 Shop! Global Award winners for POP displays.
6. Avoid Out-of-Stocks
It may feel great to walk into one of your retail locations and see your product sold out, but think again. 30 percent of the items that are OOS are purchased at another retail store, which means you are getting a fraction of your possible business and the retailer loses a sale as well. Frequent OOS occurrences could jeopardize your product's placement. Even worse, you're giving loyal customers opportunities to try competing products.
PRO-TIP: If you're struggling with OOS, first check to make sure it's not an ordering schedule issue. If it's not, and you can't increase your deliveries or production, it may be better to reduce your facings instead of leaving retailers with empty shelves.
7. Maintain Retailer Relationships
You already know this, but it bears repeating. It's important to plan your retail visits around when a manager or buyer is available. Touching base with them shows not only your commitment to your product's success, but to theirs as well. These people are your eyes and ears when you aren't around. If you show interest in their store and success, they will reciprocate with you and your brand, and be more likely to recommend your product to customers.
ACTION: Think of three retailers or managers you've been meaning to reach out to recently. Pull up your calendar right now and add site visits or schedule phone calls with them sometime in the next week.
Conclusion
Retail merchandising may have a lot of components to it, but it doesn't have to be tricky. The more makeshift work you do now, the more work you're making for yourself later. Putting in the time now to set a solid retail merchandising foundation will lead to more customers choosing you over your competitors. Implement these seven rules in each account and you'll slay the competition.
Bonus!
Need some content for your commute? Listen to this keynote presentation from the 2017 USA Trade Tasting Conference. Richard Halstead, Chief Operating Officer of Wine Intelligence, explains How to Win Retailers and Influence Them with Effective Merchandising and Programming.
Sarah is a content marketing journalist at Repsly. Repsly is a SaaS company whose mobile app is changing the way teams work in the field. To learn more, visit www.repsly.com.
Twitter: @howsarahseesit